Welcome to Visyond, a cloud-based, secure, Excel-compatible spreadsheet modeling, auditing, analysis and visualisation platform.
Summary
Decision making requires a combination of spreadsheet modeling, analytics, knowledge management, data visualization and reporting competencies and tools. Analysts, experts, clients, executives (CEOs, CFOs, etc.) must collaborate with strict requirements on data security and governance.
Below this summary, you can read FAQs and a detailed product tour of the aspects more relevant to you.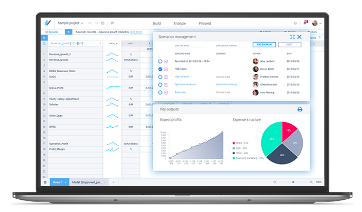 Automate your decision making workflow in 3 steps and a few clicks
Step 1 – Connect your Excel to Visyond (or create a spreadsheet from scratch in Visyond)
What you get
Transform your spreadsheet into a scalable and collaborative decision-making platform with inbuilt security and collaboration.
Immediately, and without any extra effort:
Assumptions and scenarios will be tracked and compared automatically;
Each stakeholder can work and view (or interact with) only what they need. This will:

Prevent sensitive data from being exposed or leaked;
Shield stakeholders from information overload and confusion (e.g., a decision maker may not want to locate the input cells to change for a what-if analysis, and an expert may only be concerned with entering assumptions);
Avoid surprises for stakeholders (model builders, reviewers, managers) as they will always be on the same page and in sync.

Each stakeholder can find anomalies and the root-cause of errors without having to inspect each cell in the recalculation chain.
What you need to do and how long it takes
Click on FREE Sign Up
Import your Excel into Visyond or install our add-in into Excel, or create a new project from scratch
🕑 It takes 5 to 15 minutes, one-off setup process
Main benefits compared to status quo and competitors
✔️ No long installation processes.
✔️ No need to involve consultants or IT departments (unless you want Visyond on-premise) for configuration.
✔️ Get started in minutes and leverage your Excel skills in a familiar environment.
Step 2 – Automate sensitivity and risk analyses, scenarios, financial statements and interactive dashboards
What you get
You will, in real time, visualize:
The key input cells that impact your KPIs

(e.g., revenues, costs, profits, headcount, ROI, etc.). Often this also uncovers formula errors.

The sensitivities of the KPIs to those drivers;
The scenarios created or autogenerated;
The project risks based on Monte Carlo simulation.
You can place all these analyses on online interactive dashboards and create shareable web calculators using input/output cells and charts from the spreadsheet.
Visyond will also guide you to build pro-forma financial statements by selecting relevant spreadsheet rows.
What you need to do and how long it takes
Select the decision KPI (e.g., an output cell like ROI, NPV, Revenues, Expenses, etc.)

Click on autoanalysis. 
🕑 It takes a few seconds to a few minutes (depending on spreadsheet size)
Main benefits compared to status quo and competitors
✔️ Remove human bottlenecks: every stakeholder can self-serve by clicking a button instead of hoping a "spreadsheet guru" is available;
✔️ Carry out, in seconds or minutes, tasks that take now hours or days of error-prone manual setups;
✔️ Reduce costly accidental errors;
✔️ Make more accurate decisions, faster.
Step 3 – Present or share interactive dashboards
What you get
Interactive dashboards to share with great permission granularity: decide what dashboard each stakeholder sees and what scenarios can be selected on each;
A tool that transforms a long spreadsheet-based workflow (e.g., Budget vs Actuals, Price Negotiation model, etc.) into a real time experience, easy for the modeler and the user.
What you need to do and how long it takes
Just click on the charts, key input and output cells you want on a dashboard;

Share it with granular permissions (see Step 1)
🕑 10 to 30 minutes for one-off dashboard design
🕑 1 to 5 minutes for updates
Main benefits compared to status quo and competitors
✔️ No risk to break the spreadsheet or to interfere with the views and stress-testing of other stakeholders: charts and output cells on the dashboard will respond only to changes of the input cells on that same dashboard;
✔️ Empower every stakeholder, in self-service mode, to test scenarios and understand the impact of potential decisions without breaking the spreadsheet or interfering with others' work;
✔️ No more static copy paste to PowerPoint every time there is a change in the workbook;
✔️ Leverage the cloud (you can also have it on-premise) to create a secure and interactive analysis and presentation environment.
FAQs
Before getting into the tour, we would like to answer a few questions you may have.
How easy it is to start using Visyond?
Visyond is very easy to use  – it looks and feels like a general spreadsheet.
Visyond does not require installations or complex setups – it works in the browser. 
All you need to do is to create a free account and get started.
Can I work on my Excel projects?
Yes. We support Excel syntax and formulas so you can import most Excel files or create a project directly in Visyond using the same skill set you need to create an Excel file.
You can also export to Excel.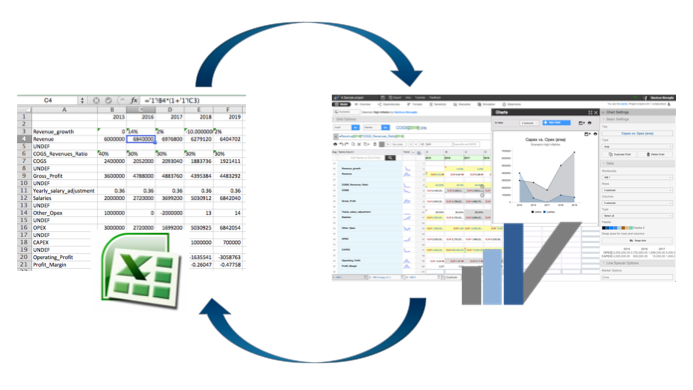 We use a spreadsheet-like interface you are familiar with and it will take you a very short time to master the platform.
Read more on Help and Training.
Is Visyond secure?
Yes. We use industry-standard best practices to store data.
Can Visyond be deployed on premise?
Yes. We can install Visyond on premise so you control your servers.
How fast is Visyond?
Visyond is as fast as online leading platforms can be. It runs in the browser and its performance should be compared to Excel 365, Google Sheets and other online tools.
Install the latest version of your browser for the best user experience (we recommend Google Chrome).
Also, close unneeded applications, tabs and browser windows to free up memory.
Product Tour
You and your collaborators will work on the same project without overwriting one another, and all changes will be tracked
Visyond is a secure single source of truth enabling spreadsheet Governance and Data Tracking
No risk of overwriting someone else's assumptions and analyses because, unlike other online spreadsheets (where the last edit overwrites the existing one), multiple inputs can coexist in a cell (you can switch between assumptions). Nobody, including the project owner, can modify data entered by others: Visyond protects data integrity and fosters accountability.
Multiple collaborators can work on the same project and Visyond will track and report who added assumptions or attached supporting documents inside the cell, when and why.
This prevents version chaos and the risk of exposing sensitive data while sharing via email or other channels.
No risk of multiple architectural changes while someone is working on the model, or that someone makes a decision based on an outdated version.
You will collaborate with your colleagues and consolidate data without the madness of going through email threads and attachments.
You can create charts and analyses and share them via interactive online slides that act as a virtual sandbox where collaborator can stress test the model in an intuitive and streamlined environment, without interacting with or risking to break the model.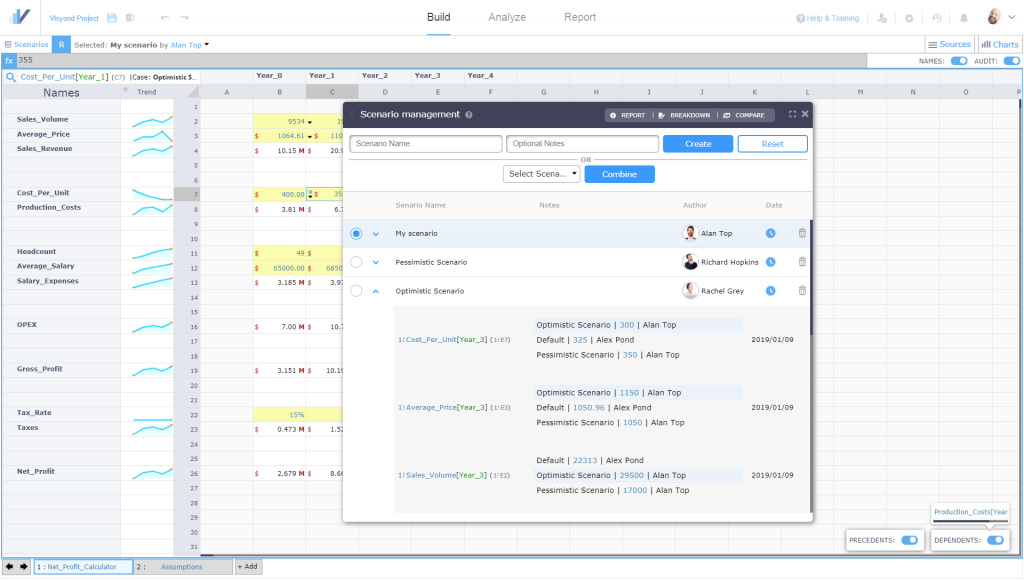 You will share only specific worksheets and interactive reports with specific collaborators
Visyond is a secure spreadsheet collaboration and reporting platform with very granular sharing options
Besides the permission system (owner, editor, viewer), you can share specific worksheets and reports with specific collaborators in order to control information flow, improve data privacy and let everybody focus on their tasks.
You can share specific worksheets and Reports / Slides by setting permissions directly on the worksheet o report.
Click on the key icon of a worksheet or a report to select who can see it.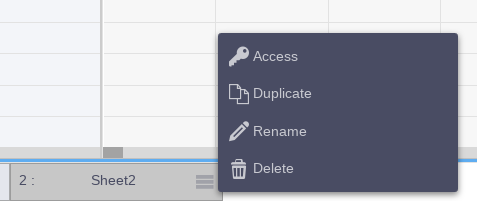 Or, use the general sharing panel on the top bar where you can manage collaborators; permissions, including what worksheets and slides they have access to.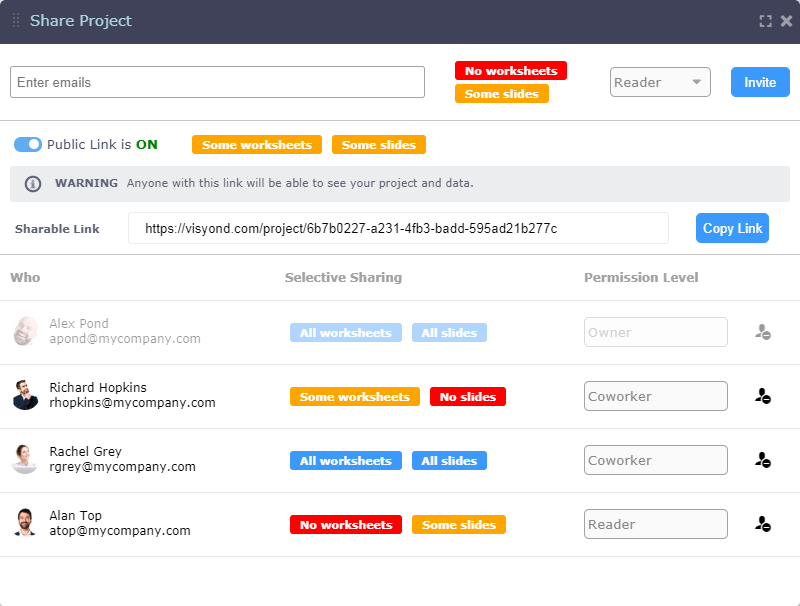 Once you have built your model, gathered data from collaborators, run your what-if analyses, you want to be able to present or share reports with the insights of your work.
With Visyond this is done automatically: a summary of the input (values, attachments, comments), scenarios, and analyses can be visualised or printed as HTML or PowerPoint slides.
Interactive Presentations
Visyond Slides allow you to build interactive dashboards where you and your collaborators can test different assumptions without touching the spreadsheet.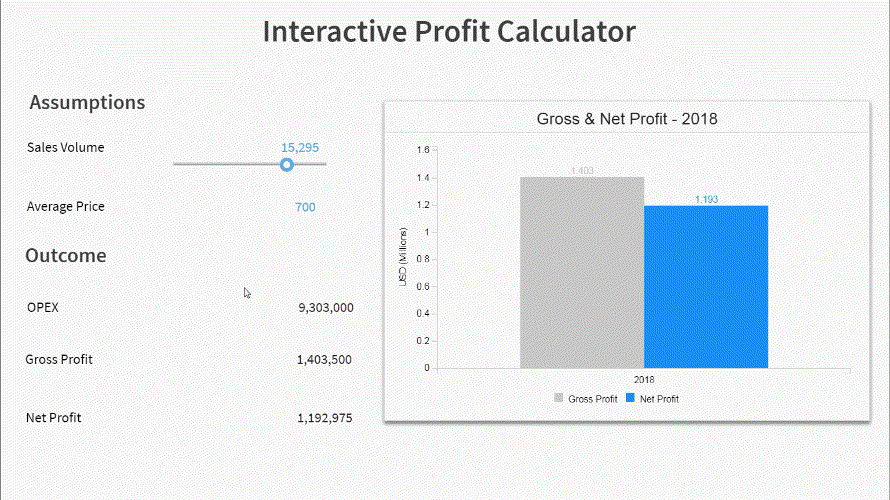 You can share slides with people who do not need to see the spreadsheet but are only interested in testing a few input and output cells or looking at a sensitivity analysis.
Slides act as a calculator driven by the spreadsheet. Changing data on the slide  does not make changes to the spreadsheet. This ensures spreadsheet's integrity even if many people are working on it through interactive slides.
You will visualize and understand spreadsheets' structure, errors and anomalies as you type
Visyond is a spreadsheet auditing platform that highlights model structure, errors and potential anomalies in real time
Get immediate insights and save hours of tedious work tracing errors or looking for those typos or architectural errors that break the model's integrity.
Audit mode and custom formatting
Visyond offers the possibility to auto format cells when you activate the Audit mode.
Cells will have a different format based on the type of data they contain and may display colored dots to indicate the presence of metadata.
In Audit mode, also trendlines for each row are shown.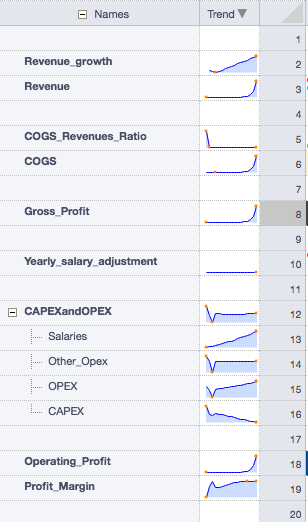 In custom mode (when you toggle Audit mode off) you can format the cells in any way you wish. Ctrl / Command + f opens the formatting dialog.

Natural names
Unlike other spreadsheet software which use only cell references like C21, in Visyond you can use natural names like Revenue_growth[2016] as you create a formula. This makes the model extremely easy to understand and audit. You can switch back and forth between natural names and Excel notation.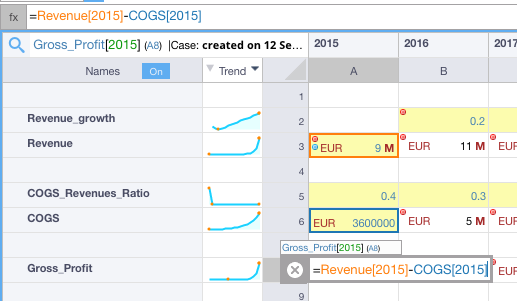 You and your team will create and visually compare scenarios on the fly, during meetings or presentations 
Visyond is a collaborative scenario planning platform
Each cell in Visyond can contain multiple assumptions, comments and attachments from any collaborato.
Clicking on Cases in the context menu (or Ctrl / Command + k) brings up the Cases panel which contains your and/or your collaborators' assumptions for that particular cell. As you work on your model you can switch between cases, and you can use the Report tab to visualize all cells with multiple cases, comments or attachments.
The Scenario Panel helps you manage different scenarios to run your model. Any collaborator can add scenarios to the model, and you can easily switch from one scenario to the next as you work on your model.

You will visualize the impact of key drivers in minutes without exporting spreadsheet data to BI tools
Visyond is a secure and collaborative spreadsheet automation, business intelligence and data visualization platform
With Visyond you will build models and carry out, in minutes, analyses that skilled professionals prepare in hours or days using traditional spreadsheets and multiple business intelligence and data visualization tools.
You will do this in a fraction of the time and without worrying about deleting or changing your collaborators' work or exporting the data set every time there is a change in the model.
For example, try running from the context menu Auto Analysis(Ctrl / Command + A) on any formula cell and see o fast you get insights that that would take you a long time and tedious manual setups to prepare.
Visyond was built with collaboration at its core and multiple collaborators can run and save different analysis they can always go back to. As usual, nobody but the owner of the analysis can edit or delete it.
Analysis Modules
This modules shows you how an output cell is sensitive to all its drivers; it answers the question: 'By what percentage the Output changes when the drivers, one by one, change by x% ?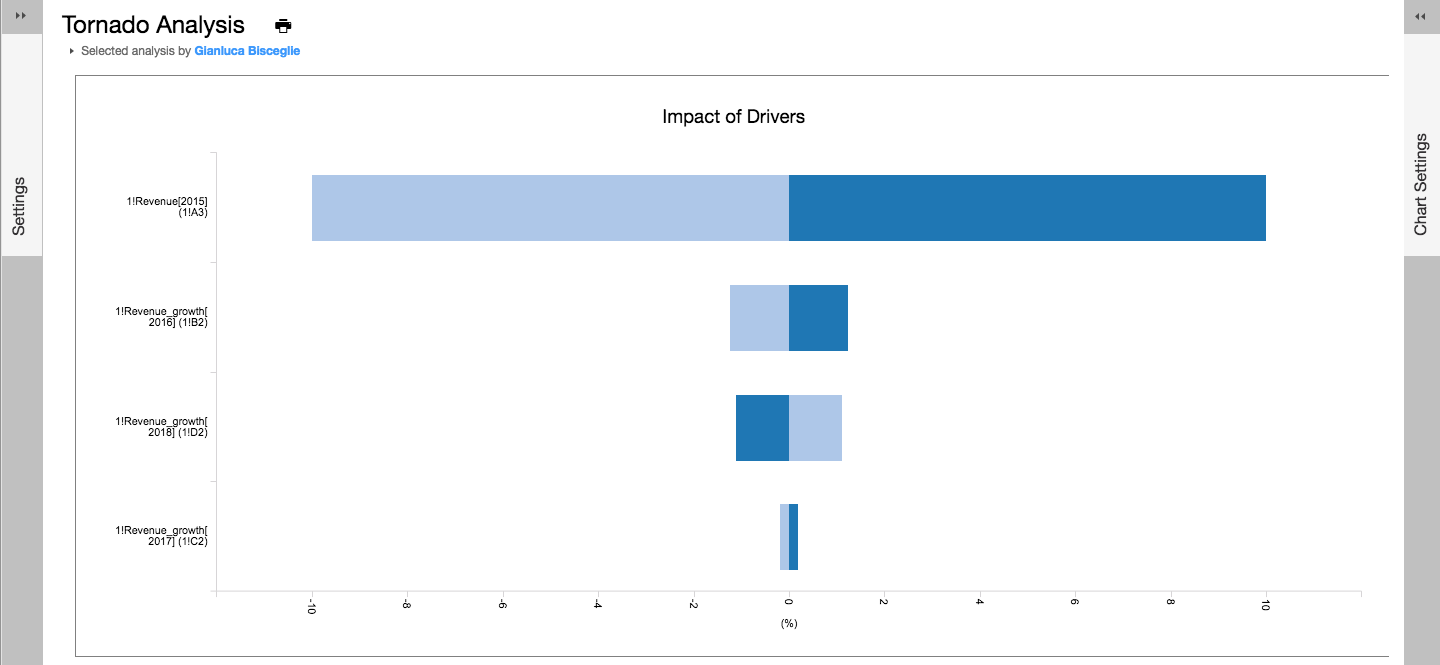 Once you know what the important inputs are, you can dig deeper on them by running a sensitivity analysis that shows you how an output varies when input(s) take certain values, either assigned manually, or over a defined range.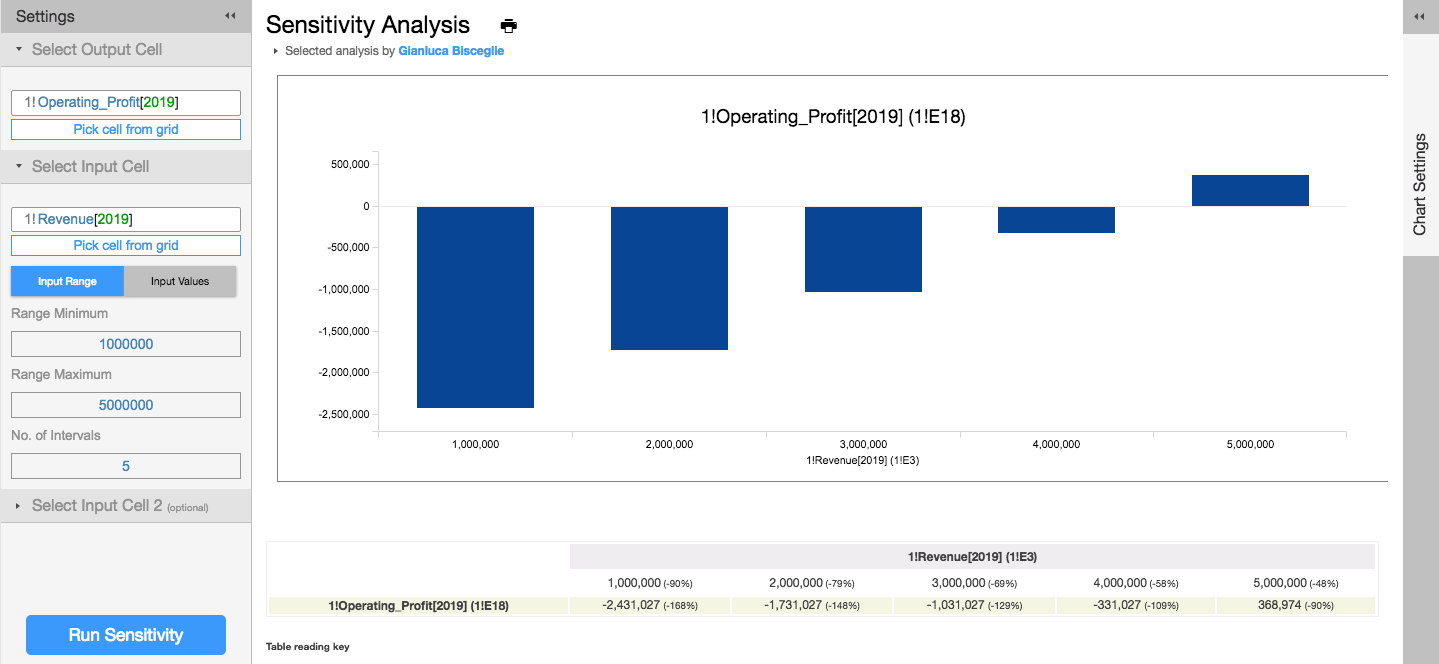 You can easily create a variety of scenarios to compare and contrast .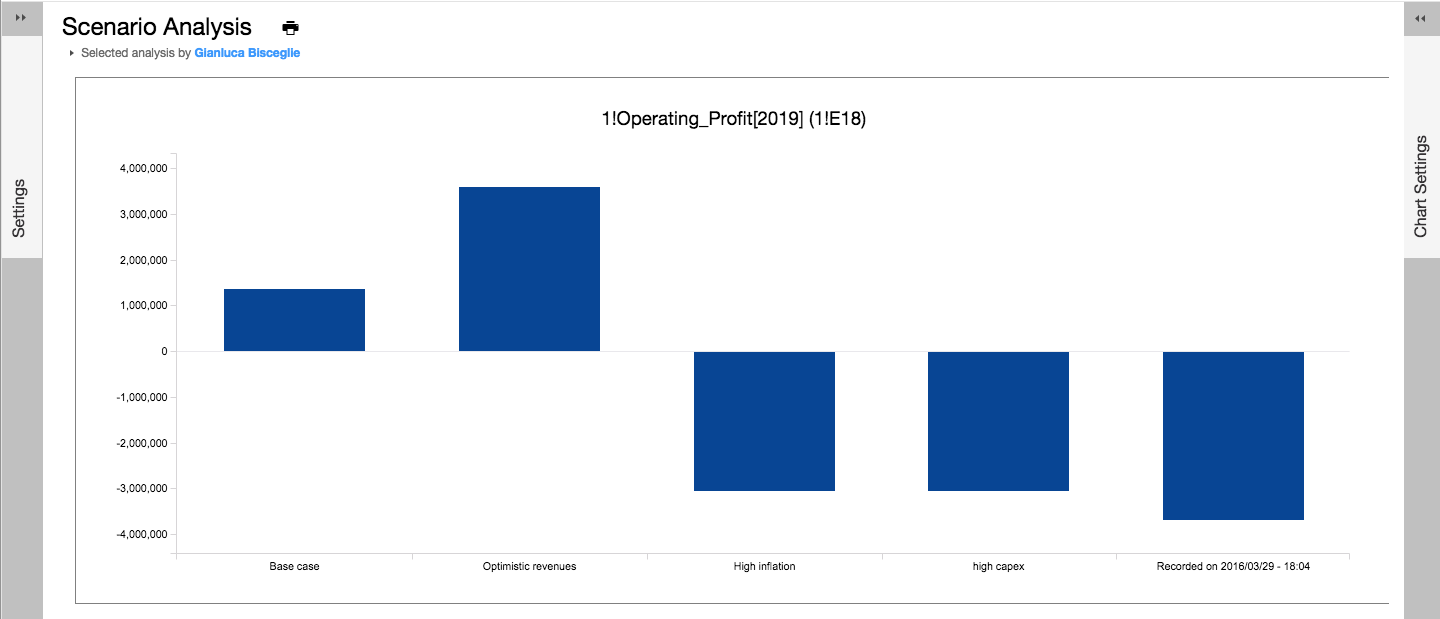 Monte Carlo Simulation replaces the input(s) with random variables with a specified distribution; it shows the output cell (and its descriptive statistics) when the input(s) have the selected probability distributions.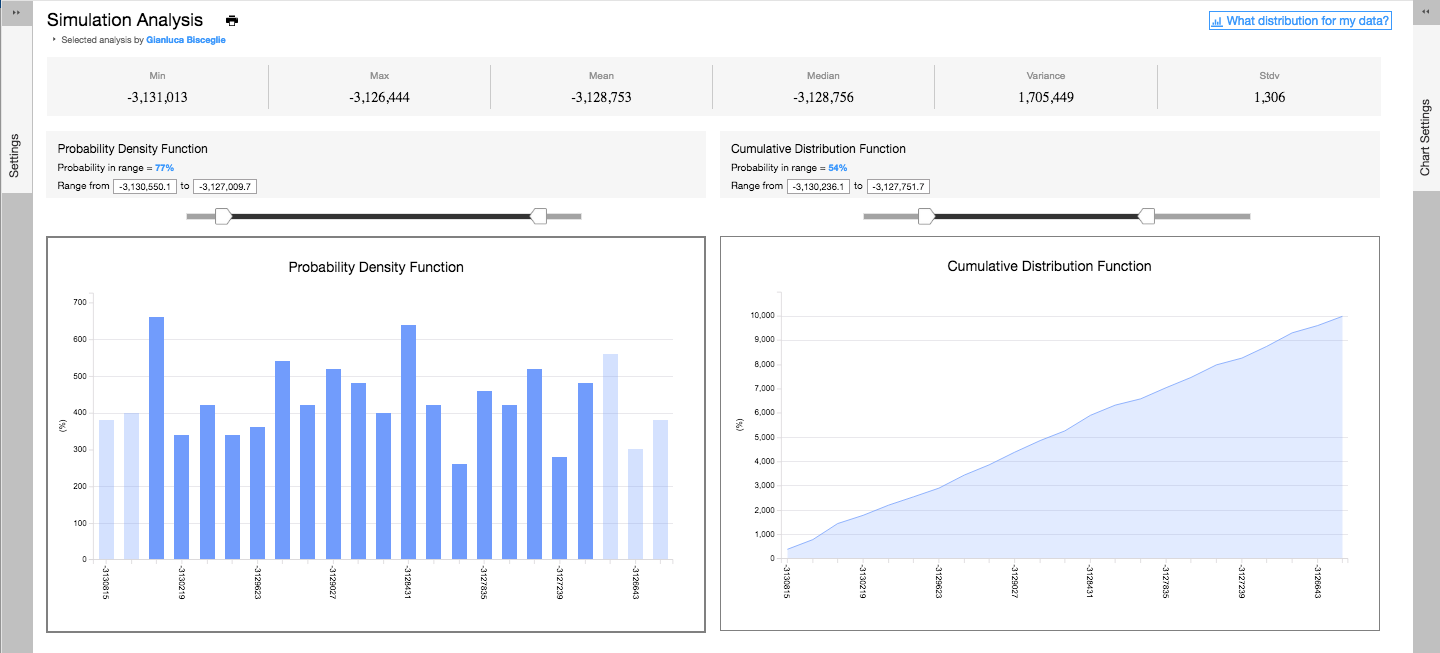 Finally, you will be able to slice and dice data using Multidimensional Analysis (aka Cube / Pivot Tables).
Charts
Visyond has extensive data visualization capabilities. With Visyond you can create charts and tables, and present them to your colleagues or clients from inside the software instead of using a separate presentation tool.
Note how charts display the active scenario: no confusion on which assumptions were selected when the chart was printed.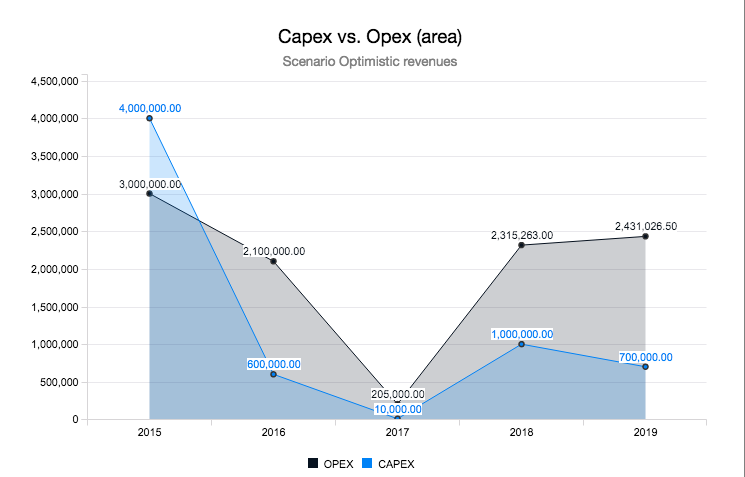 You can easily group bars or create waterfall charts in a few clicks. All settings are at your fingertips: no need to guess where to right-click or which submenu to open.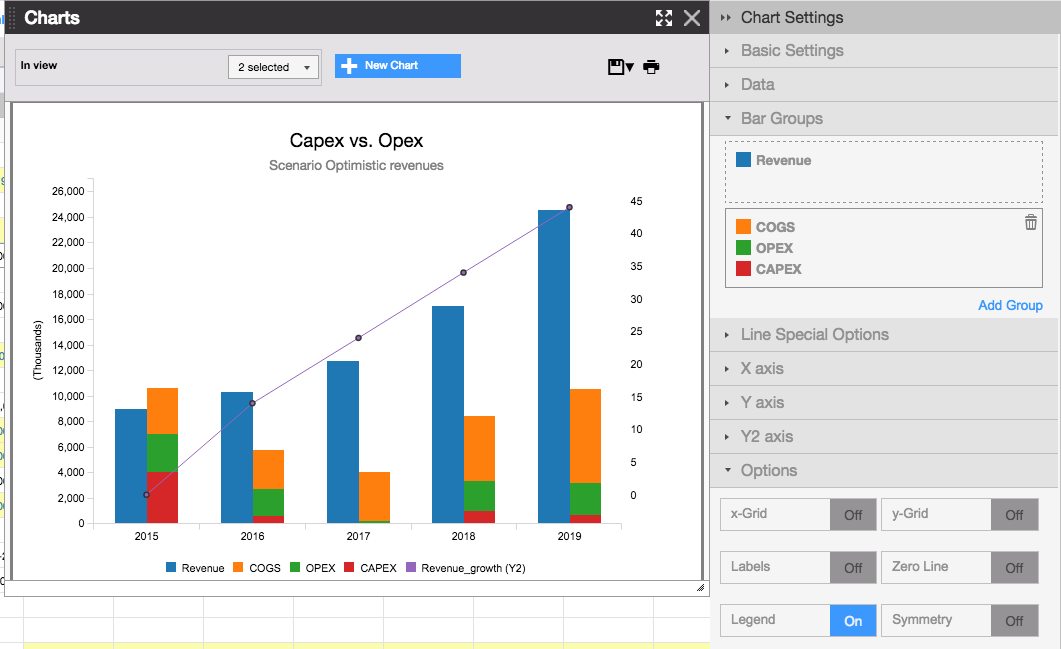 Here's how you view and use Charts .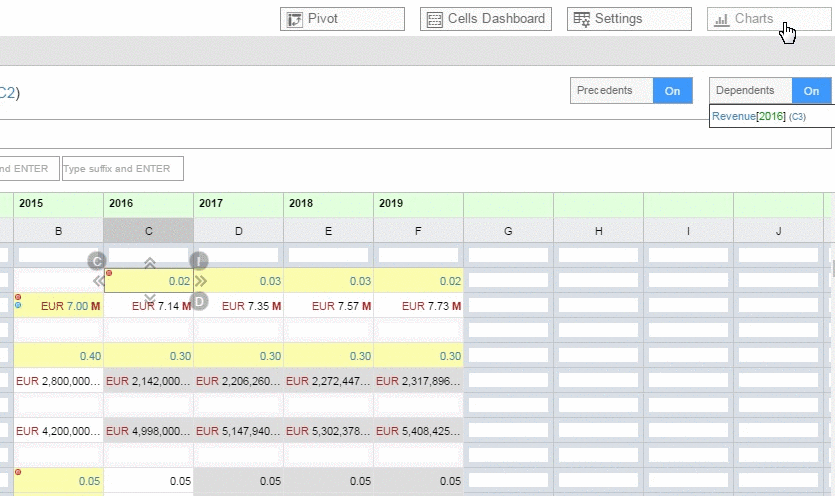 You will easily find assumptions, supporting documents and conversations
Visyond is a knowledge management platform that stores and organizes anything collaborators share
You do not need to save support documents on different platforms or try to remember where something is or who provided certain assumptions.
No need to take notes: Visyond will document the model automatically as you and your collaborators work on it.
Visyond cells contain metadata. We have already seen the cases.
Collaborators can add Comments and Attachments (Ctrl / Command + i) in a cell.
Visyond creates forward looking predictive financial statements, driven by assumptions in your spreadsheet. Visyond's statements can adapt to any reporting/accounting standard and automate the preparation of statements based on your settings.
Financial statement and key ratios will take shape as you select the spreadsheet rows that belong to certain categories (e.g., Revenues, COGS, OPEX, CAPES, etc.) and the columns of the time periods.
Depreciation, amortization, funding needs and ratios will be calculated automatically.
Visyond will also calculate the funding needs and the specific debt and equity needed to maintain a specific debt to equity ratio and cash amount on account.