How to use Audit Mode in Visyond
Visyond is designed to drastically cut the time and effort involved in auditing models and debugging formulas.
In audit mode each cell looks different based on the type of data it contains:
Light purple cells contain natural names.
Yellow cells with blue font contain hard coded numbers.
Yellow cells with green font contain dates.
Yellow cells with purple font contain strings.
White cells with black font contain formulas.
Light grey cells with black background indicate there are no populated cells.
Red cells contain errors.
You can access these color codes by hovering the cursor on the Audit button.
In Visyond you can also attach files to individual cells, leave comments on a cell or  create cases for each cell:
Red dot indicates a cell has Anomalies that must be checked.
Blue dot indicates a cell has Comments or Attachments.
A drop-down arrow indicates a cell has multiple cases.
If the audit mode is toggled off you get access to an extensive range of menu items for customizing the look and feel of your worksheet.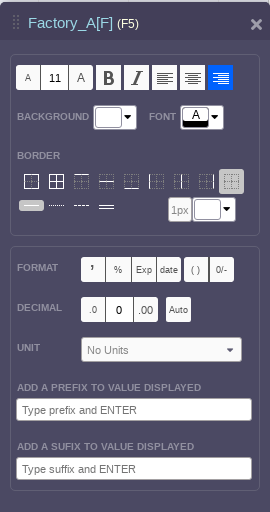 You can align text, change the color of the cell and its border and make minor changes in the look and feel like changing the font or the size of text when the Audit mode is off.
We recommend that you keep the Audit mode on to get the best out of the "ease of analysis" features of Visyond.